Mackenzie Cook considers himself to be a pretty lucky grad student.
He is working with Skyworks Inc. (previously SiGe Semiconductor) while simultaneously working 100 per cent on his thesis.
"I gained access to their extensive expertise and was able to be extremely productive. I even got my own cubicle and full computer/software suite the moment I arrived. Steve Kovacic, the Director of Skyworks Canada and my Project Manager John Nisbet have been immensely supportive and have helped guide me every step of the way. This has been an amazing company to work with. They are a market leader and I am very lucky to work with them."
Cook notes that it was Kovacic, who is also an adjunct professor at Carleton, who originally recruited him for this project.
Cook is collaborating with Skyworks Inc. on research that would cancel out interference in order to allow us to use multiple cellular radios simultaneously.
As mobile technology is evolving at breakneck speed, Cook points out that everyone  wants to be able to access as much data as possible, as fast as possible. More data requires more bandwidth – or more use of the frequencies in the air. The more use there is, the more crowded the airwaves become. This leads to interference from other devices and, sometimes, even from our own.
Cooks explains:  "To use an analogy, you and I want to be able to talk in a restaurant without being drowned out by a loud rude person in the next booth. We also want to do so without having to force them to stop or without us having to move to a new location. So we need to find a way to filter out their voice, or cancel it out."
His research is focused on obtaining the Radio Frequency (RF) signals you want while removing those that you don't want.
Cook decided to pursue his Master's degree in Electrical and Computer Engineering at Carleton after he won the Institute of Electrical and Electronics Engineers (IEEE) Carleton, Eastern Ontario, and National Student paper competitions. Among others, at the undergraduate level, he won the Nortel Networks Scholarship of Excellence, the Chipworks Award for academic excellence, a USRA – undergraduate student research award and a Senate Medal at graduation.
At the grad level, he has already won a Queen Elizabeth II scholarship and an NSERC – Canada Graduate Scholarship (Master's).
He credits his supervisor, Prof. John Rogers with helping him to do his best work. "That kind of relationship was essential for me, and I gained a good friend in the process. He is to the point and really easy to discuss issues with. I definitely lucked out with how good of a student-supervisor relationship I got."
In his spare time, Cook has managed to travel to Cuba, the Dominican Republic and Florida. Perhaps one of his best trips was to Thailand in May 2013 at a village called Elephantstay.
"We stayed in a hut in the village and we each got a retired female elephant to take care of. This included feeding, bathing, cleaning up after them (yes, poop!) and we rode them twice a day into a local river so they could get some exercise and play in the water/bathe."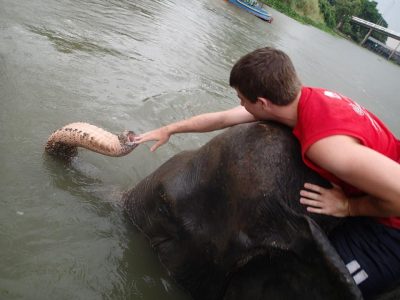 Cook adds: "The elephants are extremely well cared for and loved at the village. They are treated like family. They have approximately 100 elephants total – 10 of which are part of the Elephantstay program."
Cook's elephant was about 50-years-old and named Rosukon.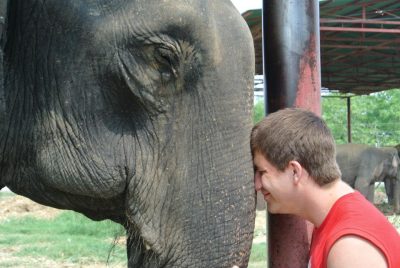 "The best way to describe Rosukon is regal. She's proper and she knows she's great. She's not snooty but she doesn't fool around quite as much as some of the others. She's very grand. She was about 10 feet tall, one of the larger females, and weighed 2500 kg."
Cook notes that Elephantstay is the most successful breeding program for the endangered Asian elephant, and to date, have had over 60 successful births since 2000.
"When we were there, we had the pleasure of playing with (and getting stolen items back from) a two- month-old girl named Bumblebee, or WangChangThai (her Thai name)," says Cook.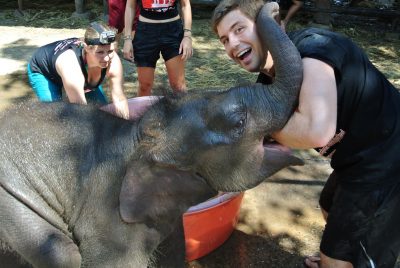 After he graduates, Cook wants to continue working as an RFIC Designer. He hopes to graduate this fall.